The following statement was issued by the Market Basket/Demoulas Board of Directors on July 30, according to a post on the We Are Market Basket daily blog:
"We want Market Basket associates back to work and reiterate that they can return without fear of penalty. We again acknowledge and understand how difficult this situation has been for associates. However, we also need to have associates working to support stores, customers and vendors. We need associates to return to work on Monday August 4th. We understand that some associates may choose not to return, consequently we will begin advertising for employment opportunities. Our hope and strong preference is to have Market Basket's incredible associates return to work. Again, any associate that wants to return will be welcomed and not penalized."
Based on initial reaction to the latest missive, via Twitter, setting down ultimatums, letting old employees go and hiring new ones may not reverse the unraveling of Market Basket and its bottom line, or end the controversy anytime soon – and may further alienate customers:
Former #MarketBasket supervisor says company's plan to hire replacement workers could affect 600 employees http://bit.ly/1u19glh 
Market Basket workers have rights! Make sure you're not targeted for illegal punishment. Learn more http://bit.ly/1kkDBuW  #SaveMarketBasket
@StevenL57 As a customer, I won't support executives who treat #MarketBasket employees this way. Stop trying to scare people and do your job
@NECN #marketbasket The lawyers will be happy to see that. A case can be made that this is a protected protest. Firings would be illegal.
@AlyshaNECN @NECN And customers like me won't be back unless the employees win. #marketbasket used to get 95+% of our grocery budget.
#MarketBasket job fairs Aug 4-5 for employees, Aug 6 for outside hires. Are fairs indication of what the company expects for possible sale?
@MaryWCVB @WCVB Guess the new #MarketBasket leadership decided the good-#PR thing just wasn't for them, after all.
PHOTO: Market Basket workers continued to picket today in Tewksbury. Latest on the stalemate: http://bit.ly/1s40hAp  pic.twitter.com/Wttp4lxreg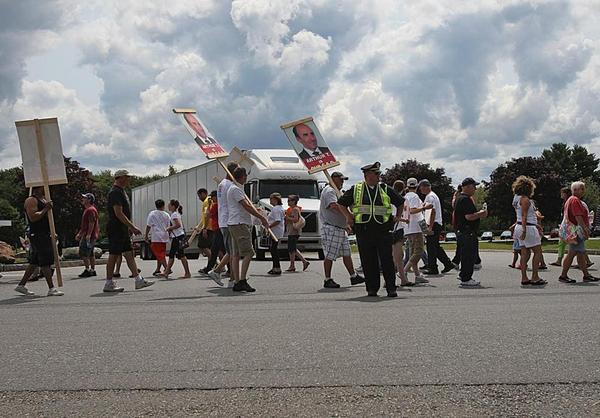 Meanwhile, a Market Basket Strong T-shirt is now being sold via mydemoulas.com for $11.00 Each / with 50 percent profits going to Market Basket Warehouse/Truckdriver Fund on GoFundMe. 
Also circulating, anthems and price comparison charts, underscoring the loyalty and hype that has propelled Market Basket to such widespread popularity.